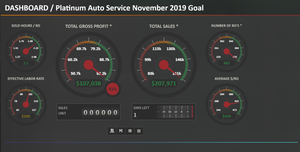 RSR Coach Virtual Coaching Program
Do you mind if I share with you a MAJOR FRUSTRATION that I have with the Automotive Service Industry? Shops are WORKING TOO HARD and ARE NOT making enough MONEY!
The RSR Coach Virtual Coaching Program was born from this frustration. Frustration from watching too many repair shops make not enough money. Frustration from knowing that coaches can charge whatever they want because they know how much money gets left on the table every year. Frustration from knowing that we can't help the shop in Jackson, WY (substitute your area) that really wants the help, because logistics and demand make training and coaching in Jackson too expensive. Frustration that most of the time it is simple, easy-to-implement practices that take an automotive shop from just existing to being FINANCIALLY SUCCESSFUL. Shops want the help, and quite frankly, WE WANT TO HELP, but too many shops cannot access the help due to geography or finances.
The RSR Coach Virtual Coaching Program takes the best from our classroom programs and delivers them in short, easy-to-understand videos hosted on a Learning Management System where you have access to information and helpful downloads 24/7. It then provides a tool to improve your employee review process (yes, you need one) and helps to set goals for every employee that is then monitored for progress by the software, by management, and by a coach from afar. Once you have some learning in place, and your goals set, we then monitor real business results through our DASHBOARD Coaching and Training tool (yes, this is the same tool others in the industry sell at a much higher price). This indispensable piece of software allows you, together with some telephone and webinar coaching, to set up and monitor financial goals on a daily and weekly basis.
It's as easy as…Learn, Set Goals, Measure and Monitor. Imagine what it might be like having an accountability partner that can watch your progress, provide a nudge to get going, give you some training, and be there to answer your business questions! We'll even throw in some FREE BOOKS along with email and text access to Greg Marchand, an industry trainer and consultant with over 30 years of experience, and the rest of our team! All of this adds up to a $3,000 per Month Value. For a LIMITED TIME we are offering the entire package for the UNBELIEVABLY LOW monthly fee of $250. Keep reading to learn more about what you get and how we can help!